The Influence of Tracking in IoT
IoT has many applications throughout many industries. Yet, why do we think that tracking is one of the most essential parts of IoT? With the intense growth of IoT, Forbes looked into the industry and came up with predictions of figures in the Internet of Things market. For instance, one of the predictions are that $6 trillion will be spent in IoT between 2015 and 2020 worldwide. And that the marketplace will be worth around $1.7 trillion!
Regardless of that, we are here to show you the importance of tracking in IoT and if it's really the "fundamental" of all IoT solutions? IoT devices are mainly used in 5 industries worldwide: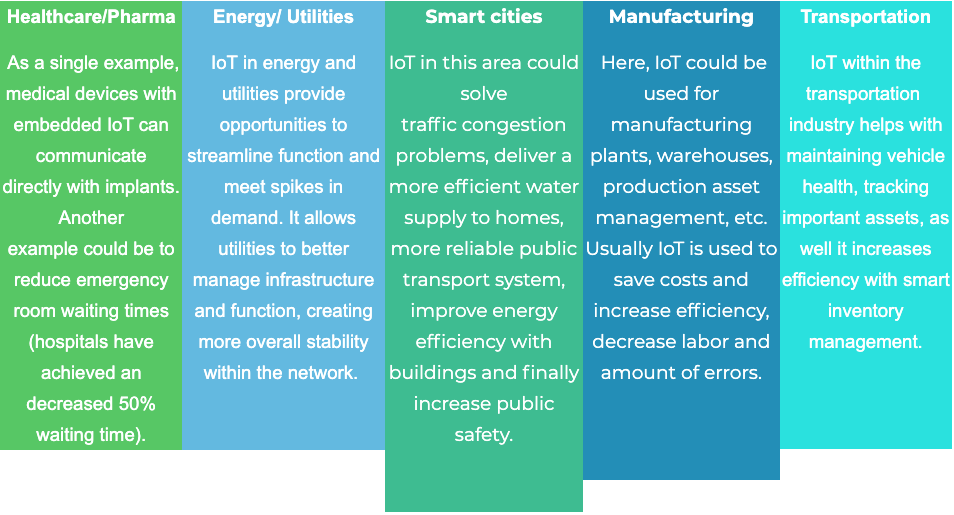 And in general, IoT can be divided into 2 subsets of categories (Industrial IoT and into Consumer IoT). Hence utilities, energy and smart cities would be used by consumers and Industrial IoT is for manufacturing, transportation and healthcare.
The transportation sector has an annual growth of over 40% yearly for the IoT sector! But yet, you might be asking yourself, why is tracking for transportation and distribution growing so fast? Well, the main reason is that 70% of businesses say that it will improve customer experience and 56% say that safety in the supply chain is one of the main priorities for their business (as reported by intelligent analysis).
.... And tracking affects both of these areas significantly!
The 3 cases that will be covered IoT tracking are: Truck Tracking, carriages tracking and electric bicycle tracking.
CASE 1 - TRUCK TRACKING - SKYLAB
According to the Transportation Research Board, in US alone there were around 9 million trucks (3.8% of total vehicle count) in 2005. And they recorded around 221 billion miles from trucks alone, which is about 8% of total vehicle miles. Hence, each truck has double the mileage of a normal vehicle.
SO TRUCKS ARE USED OFTEN TO CARRY GOODS, SO WHAT?
Do you know how many issues trucks have with carrying goods? It is widely known that tracking is important for trucks to ensure reliable on time delivery of goods, for improved driver safety, ensure cargo safety and comply with the international compliance regulations. Even though trucks use GPS systems and other technologies to communicate its location with the trucking company, it still has its limitations & problems. The normal GPS systems sometimes have trouble reaching networks due to the material objecting the signal or due to the weak antennas. Occasionally, a GPS drift might happen which again causes to give incorrect data location.
Even if the original GPS systems are IoT devices, their connectivity might not be as great.
SO HOW DOES NB-IOT SOLVE THAT?
SODAQ has developed boards that use NB-IoT and LTE-M, which have stronger connections (as they connect to the mobile networks that are closest to them).
These development boards can be altered to send data location either every minute, every hour or day to see the exact location of any vehicle that you wish. Whilst the GPS devices still are needed and work, the NB-IoT network gives a stronger connection. The batteries can last up to 5-10 years which makes them extremely easy to use! Moreover, all of those boards have accelerometers and magnetometers attached so whenever the truck is not moving it will turn itself off to not waste any battery. Then it starts back up again once the truck is moving hence everything is completely automated for the owners of the boards.
BUT IS THAT IT?
No! There are far more things you can do with the boards by attaching sensors!
In this way, if you wish to monitor the temperatures and humidity of the truck for certain goods (such as electronics or food), that can be placed on the board together with a sensor which will give you proven data if the temperature or humidity was too high or low which has damaged your goods
Moreover, you can see how the additional sensors attached to the boards or on boards help gather more data on the vehicles. This SODAQ article shows how the potentiometer helps truck owners save revenue due to sensing the amount of truckload on a certain truck (in terms of legal fees and transportation of unauthorized goods by the truck drivers). Hence, IoT in this scenario gives more precise tracking (which gives more security), and additional sensors for other activities and higher safety (with lower loss of revenue).
SkyLab creates IoT solutions completely tailored to each industry and one of their specific focuses is on smart transportation. Hence, they help with continuous monitoring of businesses supply chain and has already helped with smart trucking. SkyLab has created devices that at their core use SODAQ NB-IOT and LTE-M boards, this is mainly due to our Universal Tracking Solution. This UT solution gives a basis to make a complete solution, then they develop a dashboard and a great customer experience.
If you want to learn about SkyLab and their solutions visit their website. The SODAQ boards that we are referring to are the SARA boards, which you can see on our webshop for more details.
CASE 2 - CARRIAGES TRACKING - IOT OF SMART TRAINS
The rail freight market moves goods worth over $39 billion every year, hence tracking is extremely important within the freight industry. According to the International Transport Forum of the Organisation for Economic co-operation and Development, freight activity will increase by as much as 250% (by 2050). This means that the current tracking in the carriages industry is of extreme importance to exporters.
BUT WHAT CAN IOT IMPACT AND CHANGE WITHIN THE CARRIAGE INDUSTRY?
Here's a little mind map to show you:
Thus, IoT not only helps with tracking but with communication systems, services & requirements and industrial IoT. We will be mainly covering the aspects of freight, asset monitoring, energy efficiency and cyber security. Thus, sensors can be used to lower the failure rate and improve the reliability of trains, tracks and signals. Such sensors are able to monitor equipment with the objective of generating alerts about the need for critical attention of elements in the train.
So in this way, costs are decreased and asset usage will be optimized by lowering the number of trains taken out of service for inspection, preventive maintenance or for replacing certain parts of trains when deficiency is detected (so it's no longer reactive maintenance but predictive maintenance).
WHAT ABOUT TRACKING THE MATERIAL IN THE FREIGHT?
Yes, that's another possibility in tracking the location of freight, so let's imagine this scenario.
A SIMPLE EXAMPLE…
You have sent out national trains to transport oil and valuable goods and it's extremely important to keep a constant track of them. If there are 100 carriages sent with valuable minerals and somehow 15 of them are not tracking properly to keep it within your records there will be a huge loss in revenue. Network Rail has shown that oil per tonne costs $370 to carry and one freight can carry 2000 tonnes. This means that a fully loaded freight train carrying oil costs 750,000$!
This illustration has a truck example but its to show how complicated these journeys can really be! It's even more expensive with consumer goods as they generally cost $2200 per tonne (and a fully loaded freight train can carry 1,100 tonnes at most which results in $2.4 million).
As shown above, GPS tracking can be the most accurate. But due to potentially blocked signals, the fastest way to get an immediate position is by checking which which cell towers the device communicated through, then assisting the GPS to get an extremely accurate position That's how NB-IoT could efficiently be used within the carriage industry. As shown before you can also implement sensors on each freight rail which will show various data from temperature, to humidity, to gas and other data.
In this instance, just like truck tracking Nb IoT and LTE M boards are most efficient. SODAQ SARA boards use these types of connections and are even more useful as they have form factor which means you can replace it with any connection (even with 2G which works throughout the world).
Info for the freight industry was provided by this research paper.
CASE 3 - E-BIKES TRACKING
The current e-bike market is experiencing huge growth (especially from EU) as the sales have registered more than 15% compound annual growth rate in the last years (analysed by ecf.com/ebikeanalysis)
BUT WHY HAS IT GROWN SO MUCH?
This is due to the demand of E-bikes amongst tourists and local populations as it provides riding with less physical effort and there is no need for fuel (if you would use a car or motorbike).
Moreover, due to the rising concerns of environmental pollution, many governments have implemented regulations and policies to reduce vehicle emission during the last few years. But regardless, how does this relate to IoT? SKISS has just started doing a project with an e-bike manufacturer for their e-bike tracking. These bicycles cost usually over $1000 and it is essential for the manufacturer to provide tracking for the consumers.
HOW DOES THIS TYPE OF TRACKING EVEN WORK?
For this product there are different type of tracking services: Outdoor and Indoor.
LTE-M and GPS is used for outdoor tracking whilst WiFi connections are used for indoor.
SO ABOUT OUTDOOR TRACKING..
LTE-M is used for the initial position determination and for communicating data. It can determine the position of the bikes by triangulating different cellular masts, then using the GPS to get a more accurate position. Also, the devices use LTE-M positioning to speed up the GPS positioning which is a very useful feature. Depending on the movement of the bikes, they change the frequency delivery of the data.
AND INDOOR TRACKING?
If the bicycle finds itself in an area with a lot of buildings, they will use WiFi tracking. WiFi tracking works by connecting to WiFi access points (routers). The WiFi tracking indoor can show where the bike is within the building or room (location and floor). This works based on knowing where the different WiFi access points are, and so when this device is inside a building, the device doesn't use a GPS. But you would still want accurate positioning (for example you parked the bike between a reception of a few big buildings). You want to be able to find it back, so what the device does it reads all the WiFi access points and signal strengths around it, sends it over LTE-M to the cloud, then puts in a database and it compares it with a database of Google Maps. Then it looks where are all the WiFi access points by using the MAC address.
They read out the signal strength of each Mac addresses (if you are closer or further away from the WiFi access points) it determines the location of the bike.
It's as well possible to use Wi-Fi Beacons for this purpose only which gives higher accuracy of locating a device in between buildings. And then on the dashboard that the users uses, they can see the location.
BUT, WHAT IF THERE ARE NO NETWORKS OR WIFI HOTSPOTS?
Well SKISS has thought a step ahead, and they implemented Inertia Based Tracking. So in this scenario if you have no WiFi hotspot or GPS and it can only connect to a single mast. What it does is that it detects the history of the last location you have been in (using GPS and LTE-M) and where you are going (detection through accelerometer and magnetometer). The magnetometer can be used as a compass as north has a negative magnetic field and the accelerometer measures the movement in any direction (3-axis).
Then it takes your last measured GPS point and then for instance you have moved 20 steps North and 30 steps East, then the device simulates your location on the map! And on top of that, they overlay it with Google maps to get the most accurate position possible.
BUT WHY IS THIS NEEDED?
So if the consumer by any chance lost his expensive bike, it would be extremely easy to detect and find it again! But this program is currently in beta and SKISS is working with a large manufacturer to implement it.